Not to be confused with Afro Girl.
| | |
| --- | --- |
| | This article is in need of a better quality photo, so if you can, please help out and put a high quality photo on this page. |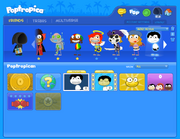 Afro Guy is a mysterious glitching Poptropican that appears in Poptropica. He has been reported in a game of Sky Dive, sometimes Legendary Swords, appear on store items, appear on the friends list, and appears on the customizer. Although, Afro Guy is not a real online player, meaning that he is neutral, he may glitch islands to make it harder, or glitch islands to make it easier.
Characteristics
Afro Guy appears to be a Poptropican with black or white skin. He wears a white singlet and has a black afro. His mouth smiling wide, lined white teeth (though occasionally varies). Sometimes he appears without any hair. If you use the costumizing animals glitch on characters that act like poptropicans (Ex. The settlers on Early Poptropica) A variant of Afro guy will appear, except he will have buggy eyes that change rapidly.
Trivia
The creators of Poptropica seem to know that he exists, and included him in a sneak peek.
Gallery
aN2NUQmVRWlcxaWJHVnRNdz09