Bearded Townie is an ambitious townie on the Main Street of Cryptids Island.
Characteristics:
Appearance
Bearded Townie is ambitious and excited, not afraid to voice his opinion. While he is not shown trying to win the cryptids contest, he still shows some enthusiasm.
He has a slight quiff, beard (hence the name), black glasses, and a cheesy smile. He wears a tan shirt with blue pants.
Storyline: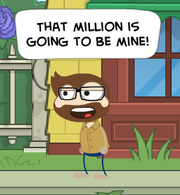 You meet Bearded Townie as the first character on Cryptids Island. He is walking around on Main Street near the General Store. He tells you that the million is going to be his - at the time of his introduction, you don't know what he's talking about, so it intrigues you to continue walking.
Trivia:
Ad blocker interference detected!
Wikia is a free-to-use site that makes money from advertising. We have a modified experience for viewers using ad blockers

Wikia is not accessible if you've made further modifications. Remove the custom ad blocker rule(s) and the page will load as expected.