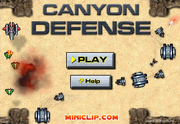 Canyon Defense is a game that appeared on Poptropica as part of the launch of
Daily Pop
. It is an old favorite from the popular gaming website MiniClip. It is a typical Tower Defense style game, where enemies attack you in waves and you must stop them from making it through your base by placing weapons throughout the map. Canyon Defense is a little different from many other games in the category in that the weapons you place cannot be upgraded. But you can earn special powers, and the game makes use of support buildings to make the game challenging and different.
Ad blocker interference detected!
Wikia is a free-to-use site that makes money from advertising. We have a modified experience for viewers using ad blockers

Wikia is not accessible if you've made further modifications. Remove the custom ad blocker rule(s) and the page will load as expected.