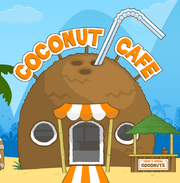 Coconut Cafe
is the 
common room
on
Shark Tooth Island
.
Appearance
The coconut cafe looks like a giant coconut with a straw sticking out of it.It has the words "Coconut Cafe" above it. There is a small orange-and-white striped awning over the door, and a small orange-and-white striped walkway that leads to the door.
Trivia
Unlike most other common rooms, the Coconut Cafe's entrance is on the second level, not the first.
The first level of the Coconut Cafe is knee-deep in coconut milk.
Ad blocker interference detected!
Wikia is a free-to-use site that makes money from advertising. We have a modified experience for viewers using ad blockers

Wikia is not accessible if you've made further modifications. Remove the custom ad blocker rule(s) and the page will load as expected.