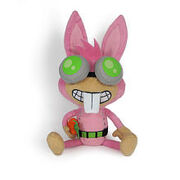 The Dr. Hare Plush Toy is a plush of Dr. Hare created by Poptropica in 2011 and sold, with many other toys, at Toys "R" Us.
Powers Included
You receive 2 powers when you enter the code that comes with the toy. The first power is Hare Club, which causes all the Poptropicans around you to appear with Drone Ears. The second power, Dr. Hare Plush, allows your Poptropican to hold the Dr. Hare plush.
Trivia
Ad blocker interference detected!
Wikia is a free-to-use site that makes money from advertising. We have a modified experience for viewers using ad blockers

Wikia is not accessible if you've made further modifications. Remove the custom ad blocker rule(s) and the page will load as expected.