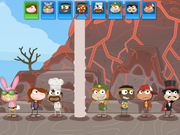 Geyser Guess is a minigame featured on Reality TV Island.
In it, the player must pick a geyser each round. Each round, one geyser will erupt, and anyone who is standing on it will be thrown into the air and eliminated. The geyser that gets picked is random so there's no telling if the player will stay in or out. Sometimes, the game will pick the same geyser twice in a row. Therefore, picking the geyser that erupted the previous turn is just as much of a strategy as randomly selecting one (i.e. It really is not a strategy. You just have to pick one and hope that you will survive).
Ad blocker interference detected!
Wikia is a free-to-use site that makes money from advertising. We have a modified experience for viewers using ad blockers

Wikia is not accessible if you've made further modifications. Remove the custom ad blocker rule(s) and the page will load as expected.