| | |
| --- | --- |
| | This article is in need of a better quality photo, so if you can, please help out and put a high quality photo on this page. |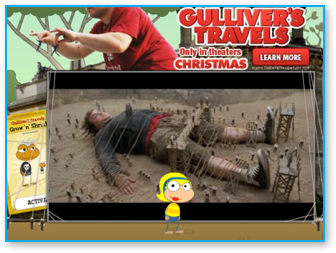 This ad is for the new Gulliver's Travels movie in Poptropica. Go into the building and go over to the the ship and set sail. This part is a lot like Skullduggery Island's ship. You have to avoid the storm clouds and get to the "X" on the map. Once you get there you can either be Gulliver or Lillipution. If you chose Gulliver, then you have to protect the townspeople from the fiery arrows. If you play as Lillipution you have to avoid Gulliver's footsteps. If you win either way you get a Gulliver outfit, a Gulliverizer which lets you become big, and a Lilliputionizer that makes you little.
Ad blocker interference detected!
Wikia is a free-to-use site that makes money from advertising. We have a modified experience for viewers using ad blockers

Wikia is not accessible if you've made further modifications. Remove the custom ad blocker rule(s) and the page will load as expected.