"
Explore, collect, compete
"

—Poptropica slogan
Poptropica, also known as Poptropica Worldwide is an online, role-play browser game created by Jeff Kinney, and Family Education Network for kids ages 6-15.
It is owned by the Family Education Network, a subsidiary of Pearson Education. This ownership gave them free advertisement, and in turn, Poptropica does the same. Poptropica Worldwide is the owner of FunBrain.com.
In the game, players, called Poptropicans travel to different islands and complete quests on them. So far there are forty-three islands released on Poptropica and over 500,000,000 Poptropicans. Poptropica creates a lot of merchandise, including the Poptropica Blimp toy and many outfits, all of which are sold at the Poptropica Shop. They also make action figures, plush models, and "Pocketeers," which are two-inch toys.
Video Games
So far, Poptropica has created one video game, called Poptropica Adventures for the Nintendo DS. There is also a 3DS copy of the game playable on the 3DS.
Planet Poptropica
Planet Poptropica 
is the planet in which most of the quests take place, however some quests take place in 
outer space
, it also looks very different from planet Earth.
Inhabitants
Many creatures inhabit Poptropica. Here is an incomplete list of some of the unusual inhabitants of Poptropica.
A meteorite that grants amazing super-powers
Spirits of tribal leaders
Nabooti Totem (Alien)
List of Islands Released on Poptropica
As of September 2014, there are 40 islands released.
Timeline
Below is the list of Islands that are released or soon to be released on Poptropica:
2007
2008
2009
2010
2011
2012
2013
2014
2015
Islands
Early Poptropica
Main article: Early Poptropica Island

"Poptropica's oldest inhabitants have a problem: someone's been stealing their stuff! To return what's rightfully theirs, you'll explore creepy sewers, pitch-black caverns, and even a giant's garden in the clouds. See how it all began with the very first Poptropica Island: Early Poptropica![1]"
―Advertisement for Early Poptropica Island
Shark Tooth
Main article: Shark Tooth Island

"Shark Tooth Island is online and ready to be explored! The citizens of the virtual world Island for kids are having BIG shark trouble. Only you can save the day by discovering the many secrets of the online virtual world, Shark Tooth Island.[2]"
―Advertisement for Shark Tooth Island
Time Tangled
Main article: Time Tangled Island
"A malfunctioning time machine has messed up history! It's your job to go back in time and set things right in this online virtual world. Because if you don't, who knows what the future will hold?[3]"
―Advertisement for Time Tangled Island
24 Carrot
Main article: 24 Carrot Island

"Something strange is happening on 24 Carrot Island. People are going missing, and the virtual world's carrots are disappearing as well. It's up to you to get to the bottom of the mystery and to bring the Island back to its former splendor![4]"
―Advertisement for 24 Carrot Island
Super Power
Main article: Super Power Island

"A giant meteor has crashed into the virtual world's prison, freeing hardened criminals and giving them super powers. Now they are wreaking havoc on the Island. Only a true superhero can stop them and save the day.[5]"
―Advertisement for Super Power Island
Spy
Main article: Spy Island

" New sinister menace has been discovered by Poptropica's three top spies, but now the spies have vanished! You will need the skills of a cunning spy to rescue them and discover all the clues of the online virtual world, Spy Island. Get ready for gadgets, sneaky moves, and hair-raising adventures![6]"
―Advertisement for Spy Island
Nabooti
Main article: Nabooti Island

" For centuries, the Nabooti tribe has been protected by the power of seven sacred jewels. But now, the jewels are missing! Trek across Africa to find the missing jewels and return them to the Nabooti tribe. You'll visit pyramids, ancient mines, and giant waterfalls on your online virtual world quest.[7]"
―Advertisement for Nabooti Island
Big Nate
Main article: Big Nate Island

" Get ready for a whole new type of online virtual world adventure on Poptropica. Enter the comic strip world of Big Nate - a wisecracking kid who holds the all-time record for detentions at this school. You're on a mission to find a long-lost time capsule which, if found, can save the school from demolition. You'll need help from Nate and his friends to complete your online virtual world quest![8]"
―Advertisement for Big Nate Island
Astro Knights
Main article: Astro Knights Island

"Launch thyself into a new online virtual world adventure on Poptropica! The princess hath been kidnapped and taken to the far reaches of space. Thou must assemble a space vessel and fly among the stars on an intergalactic quest to rescue her and save the kingdom of Arturus is the online virtual world, Astro-Knights Island.[9]"
―Advertisement for Astro Knights Island
Counterfeit
Main article: Counterfeit Island

"Some of the world's most famous artwork is on display at the Island's museum, but rumor has it someone's out to steal it. Can you explore the dark and dangerous side of the online virtual world Counterfeit Island and save the day in the cracking canvas caper?[10]"
―Advertisement for Counterfeit Island
Reality TV
Main article: Reality TV Island

"Have you ever wanted to be the star of a reality TV show? Well, now's your chance! Duke it out with your fellow contestants and avoid elimination to win the show's grand prize and become a hero to your hometown in the online virtual world, Reality TV Island[11]"
―Advertisement for Reality TV Island
Mythology
Main article: Mythology Island

"Mighty Zeus, king of the gods, needs a hero - and he wants you! To satisfy Zeus, you'll need to battle monsters, swim the depths of the ocean, and descend into the mysterious underworld. Will you emerge a hero like Hercules, or face the fiery wrath of Zeus and his thunderbolts?[12]"
―Advertisement for Mythology Island
Skullduggery
Main article: Skullduggery Island

"Set sail for adventure! Outwit cunning pirates and battle fierce sea monsters in the biggest Poptropica online virtual world quest yet. Build your ship. Assemble your crew. Rule the sea![13]"
―Advertisement for Skullduggery Island
Steamworks
Main article: Steamworks Island

"The silence of empty streets welcomes you. Metal and machines fill the lonely halls, and a growing mystery lurks behind a shroud of steam. Can you uncover what happened to the inhabitants of this ancient online virtual world? Gear up for a steam-powered adventure you will never forget.[14]"
―Advertisement for Steamworks Island
Great Pumpkin
Main article: Great Pumpkin Island

"Halloween is here, but not all of the PEANUTS kids are celebrating - not when Charlie Brown keeps getting tricks instead of treats, Snoopy is attacked by the infamous Red Baron, and Linus waits all night for the Great Pumpkin. Can you set things right in this online virtual world and save Halloween?[15]"
―Advertisement for Great Pumpkin Island
Cryptids
Main article: Cryptids Island

"An eccentric billionaire is promising a big reward to whoever can prove the existence of cryptids - hidden creatures. The hunt is on for Bigfoot, Nessie, and other legendary beasts. But watch out: you're not the only one in search of these monsters in this online virtual world - and your competitors will stop at nothing to find them![16]"
―Advertisement for Cryptids Island
Wild West
Main article: Wild West Island

"A shadow is creeping across the frontier, and its name is El Mustachio Grande. He's the meanest, nastiest outlaw in the land, and he's terrorizing the good folks of the online virtual world Wild West Island. With your trusty horse by your side, only you stand between the Mustachio gang and total anarchy. Can you bring Mustachio to justice, once and for all?[17]"
―Advertisement for Wild West Island
Wimpy Wonderland
Main article: Wimpy Wonderland

"The kids in town are enjoying a snow day - all except for Greg Heffley, whose little brother Manny has gone missing! It's up to you to find Manny, but before you do, you'll have to contend with surly teenagers, crabby senior citizens, and those rotten Whirley Street kids. Join Greg, Rowley, Rodrick, and the rest of theWimpy Kid characters for a snow-capped adventure you'll never forget![18]"
―Advertisement for Wimpy Wonderland Island
Magic Tree House: Red Dragon
Main article: Red Dragon Island

"The Magic Tree House has landed on Poptropica! Join Jack and Annie on a journey back in time to a world of samurai warriors, sumo wrestlers, and even greater dangers that lurk in the clouds. When trouble strikes, it's up to you to master a set of elite ninja skills and undertake a dangerous rescue mission. Can you find your way back home, or will you be stuck in the virtual world of old Japan forever?[19]"
―Advertisement for Red Dragon Island
Shrink Ray
Main article: Shrink Ray Island

"A young genius has invented a ray gun that shrinks anything it touches - including you! But when the scientist and her invention go missing, you'll have to keep the shrink ray from falling into the wrong hands, and find a way to bring yourself back to normal size. To solve a problem this big, you've got to think small![20]"
―Advertisement for Shrink Ray Island
Mystery Train
Main article: Mystery Train Island

"How do you solve a mystery when everyone is a suspect? It's 1893, and some of the world's brightest minds are traveling by train to the World's Fair in Chicago. But after a dastardly crime puts the fate of the Fair in peril, only you can piece together the clues and collar the criminal. All aboard for a whodunit that will keep you guessing until the last twist of the tracks![21]"
―Advertisement for Mystery Train Island
Game Show
Main article: Game Show Island

"Welcome to a future where robots rule. Building computers to compete on TV game shows seemed like a funny idea - until the machines wanted more. Now, after years of robotic dominance, Poptropica needs a savior. Are you clever enough to beat the robots at their own games, and restore the dignity of all Poptropicans?[22]"
―Advertisement for Game Show Island
Ghost Story
Main article: Ghost Story Island

"Hemlock Harbor is a town with a secret. Restless spirits are said to haunt its shores, but no one knows who they are, what they want -- or how to get rid of them. Can you hunt the ghosts of Hemlock Harbor and uncover the mystery that will set them free?[23]"
―Advertisement for Ghost Story Island
S.O.S
Main article: S.O.S Island

"When a whale-watching expedition strikes an iceberg, a pleasure cruise becomes a disaster scene. As the ship sinks deeper and deeper into the frigid waters of the North Atlantic, can you rescue everyone onboard before it's too late?[24]"
―Advertisement for S.O.S Island
Vampire's Curse
Main article: Vampire's Curse Island

"For centuries, a truce has existed between the people of a remote mountain village, and the vampire who lives in the castle high above. Now, that truce is shattered, and Count Bram has captured a young villager. Can you rescue her from his evil clutches -- and avoid being struck by the vampire's curse?[25]"
―Advertisement for Vampire's Curse Island
Twisted Thicket
Main article: Twisted Thicket Island

"A quiet seaside village has been attacked by mysterious beings that dwell nearby. You are chosen to enter the dark woods and confront the creatures. But beyond the forest's edge lies a world of magic and danger, where the only thing more twisted than the tree trunks is the truth.[26]"
―Advertisement for Twisted Thicket Island
Poptropolis Games
Main article: Poptropolis Games Island

"Once every 100 years, the ancient capital of Poptropica -- Poptropolis -- rises from the sea to host a tournament created to prove tribal supremacy. Each of the tribes of Poptropica sends a representative to compete across a series of grueling events for a chance to become the Champion of Poptropica. Do you have what it takes to vanquish the competition and win glory for your tribe?[27]"
―Advertisement for Poptropolis Games Island
Wimpy Boardwalk
Main article: Wimpy Boardwalk Island

"It's summertime, but the living ain't easy for a wimpy kid. When Greg and Rowley visit the boardwalk for a relaxing beach vacation, they never expect to run afoul of thieving teens, ravenous seagulls, and crooked carnies. Only you can clean up Greg's mess before vacation ends![28]"
―Advertisement for Wimpy Boardwalk Island
Lunar Colony
Main article: Lunar Colony Island

Super Villain
Main article: Super Villain Island

Charlie and the Chocolate Factory
Main article: Charlie and the Chocolate Factory Island

Zomberry
Main article: Zomberry Island

Night Watch
Main article: Night Watch Island

Back Lot
Main article: Back Lot Island

Virus Hunter
Main article: Virus Hunter Island

Mocktropica
Main article: Mocktropica Island

Monster Carnival
Main article: Monster Carnival Island

"In the dead of night, a caravan rumbles into town. The traveling carnival has returned! But this is no day at the park. Behind the lights and the laughter, the carnival harbors a dark secret. Buy a ticket if you dare, but beware — once you enter, you may never be able to escape the Monster Carnival![37]"
―Advertisement for Monster Carnival Island
Survival
Main article: Survival Island
"Miles from civilization, it's just you against nature. Can you survive in the wilderness and find your way back home?[38]"
―Advertisement for Survival Island
Mission Atlantis
Main article: Mission Atlantis Island
"It's a different world under the sea… but the ancient secret at the bottom of the ocean is beyond your wildest dreams.[39]"
―Advertisement for Mission Atlantis Island
PoptropiCon
Main article: PoptropiCon Island
"Everyone is dressed up for the biggest sci-fi and fantasy convention in Poptropica. At PoptropiCon, the most important thing isn't what you do — it's how you look doing it![40]"
―Advertisement for PoptropiCon Island
Arabian Nights
Main article: Arabian Nights Island
"The winner of Poptropica's Create Your Dream Island contest comes to life! Journey to an ancient land of sultans, thieves, and a magical lamp with power beyond imagination.[41]"
―Advertisement for Arabian Nights Island
Galactic Hot Dogs
Main article: Galactic Hot Dogs Island
"From the hit illustrated novel comes the zaniest Poptropica adventure yet. Hop aboard the Neon Wiener for an intergalactic voyage with Cosmoe, Humphree, and Princess Dagger!.[42]"
―Advertisement for Galactic Hot Dogs Island
Acronyms/Initials
Island

Acronym

Early Poptropica
EP
Shark Tooth
ST
Time Tangled
TT
24 Carrot
24C
Super Power
SP
Spy Island
SI
Nabooti
NB
Big Nate
BN
Astro-Knights
AK
Counterfeit
CF
Reality TV
RTV
Mythology
MI
Skullduggery
SD
Steamworks
SW
Great Pumpkin
GP
Cryptids
CT
Wild West
WW
Wimpy Wonderland
WMP
Red Dragon
RD
Shrink Ray
SR
Mystery Train
MT
Game Show
GMS
Ghost Story
GST
S.O.S
SOS
Vampire's Curse

VC

Twisted Thicket

TWT

Poptropolis Games

PG

Wimpy Boardwalk

WB

Lunar Colony

LC

Super Villain

SV

Charlie and the Chocolate Factory

CCF

Zomberry

ZB

Night Watch

NW

Virus Hunter

VH

Mocktropica

MKT

Monster Carnival

MC

Survival

SRV

Mission Atlantis

MA

PoptropiCon

PC

Arabian Nights

AN

Galactic Hot Dogs

GHD
Medallion
Main article: Medallion
Island medallions can be earned by doing the island's quest. Once you did, you will receive a Medallion as well as 50 credits.
Main Streets
Main article: Main Street
The first street you see when you landed on a island is called Main Street. Main Street can be found on every island. The Poptropica Blimp and Multiplayer Rooms can be found on the Main Street.
Here are the Main Streets of some Islands:
Multiplayer Rooms
Main article: Multiplayer Rooms
Multiplayer Rooms are rooms where you can chat or challenge other players head-to-head. Nearly every island have their own Multiplayer Room. Below is the list of most of the island Multiplayer Rooms:
Island

Multiplayer Room

Early Poptropica
Soda Pop Shop/Arcade
Shark Tooth
Coconut Cafe
Time Tangled
Party Time Tower
24 Carrot
24 Carrot Cinema
Super Power
The Daily Paper
Spy Island
The Hair Club
Nabooti
Fly-By-Night Airlines
Big Nate
Cap'n Salty's
Astro-Knights
Crop Circle Inn
Counterfeit
The Moldy Baguette Inn
Reality TV
Billiards
Mythology
Midas' Gym
Skullduggery
The Broken Barrel
Steamworks
Steamworks Gear Shop
Great Pumpkin
Flying Ace Cafe
Cryptids
Bert's Bed & Breakfast
Wild West
Dusty Gulch Hotel
Wimpy Wonderland
Photo Gallery
Red Dragon
Frog Creek Library
Shrink Ray
Sweet Dreams Candy Shop
Mystery Train
Reverie Lounge
Game Show
Robo-Bling Boutique
Ghost Story
Visitor Center
S.O.S
Daggoo's Fish Market
Vampire's Curse
A Farm
Twisted Thicket
Bjorn's Smörgåsbord
Poptropolis Games
Poptropolis Training Hall and Gym
Wimpy Boardwalk
Laser Tag
Lunar Colony
Final Frontier Gift Shop
Super Villain
You Know the Drill Eatery
Charlie and the Chocolate Factory
The Post Office
Zomberry
Cinema B
Night Watch
Bananabees
Virus Hunter

Town Hall

Mocktropica

The Blue Locust Restaurant

Monster Carnival

Ice-Cream Shop

PoptropiCon

The Facili-tee, Atrium
Antagonists/Villains
There's a few islands in Poptropica with the main quest to defeat villains. Not every island has a villain, but some of them may have more than one villain. Below is a list of each island's villain(s):
Mini-Islands
Main article: Mini-Islands
Also called Non-Island. Mini-Islands are quest that looks like the island quests, but shorter and usually easier. The Mini-Islands can be bought on Poptropica Store with various prices. However, since late 2011, the Mini-Islands would not cost any credits. Below is a list of Mini-Islands released on Poptropica :
There's also a Mini-Island play called Blimp Adventure. You must buy the Poptropica Blimp first on Toys R Us to get the redeem code.
Bonus Quest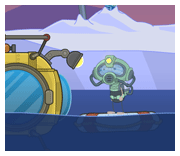 Since December 2011, Poptropica has been releasing bonus quests for members. The bonus quest can be unlocked when you finish selected islands. As for now, the islands that have Bonus Quest are:
Poptropica has stopped releasing Bonus Quests since they have started making episode Islands.
Island Restart
Starting July 6, 2011, Poptropica started allowing players to replay islands, while keeping all the Island Medallions they had already earned. After you finished the island numerous times, you'll still get the statistics.[43] To restart an island, you can click on the map icon at the top right of the screen. The Restart Island button located at the bottom-left of the screen.
Trivia
Poptropica was officially launched September of 2007.
As of October 19th of 2012, Poptropica has had over 498 million users.
In early 2010, the Poptropica team added membership for Poptropica users to have an upgraded access to exclusive items from the Poptropica Store, and to play on islands before their release to non-members. In August of 2014, they allowed members to access a beta island, Poptropica Land, where they are able to play with special idealistic tools, costumes, etc., for their enjoyment, even if they will not be used in future islands.
External Links
References

ay,