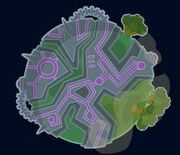 The Jungle Planet is a planet in Astro-Knights Island. It is covered with mechanical vegetation. Here you will find the Laser Lance.
Fauna
Mother Phoenix - A large Atomic Phoenix. During the search for the princess, a knight named Sir Cador searched and failed his quest at Jungle Planet due to the Phoenix.
Metal Caterpillar - A metallic, caterpillar-like creature that can electrocute you. They live in the treetops of the Jungle Planet.
Stats
On your Spaceship, you can find information about the Jungle Planet:
Temperature: 115°F, 46°C
Surface: Mechanical Jungle
Information: This planet is populated with strange mechanical vegetation and creatures. One of the most ill-tempered inhabitants is the Mother Phoenix.
Gallery
Trivia
Ad blocker interference detected!
Wikia is a free-to-use site that makes money from advertising. We have a modified experience for viewers using ad blockers

Wikia is not accessible if you've made further modifications. Remove the custom ad blocker rule(s) and the page will load as expected.