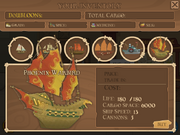 This is the List of Skullduggery Ships, which is just info about all the ships you can get in Skullduggery. All the ships can be bought at Dragon Cove.
The Raft
The Raft is the standard ship some stranger got, sharing it with the cabin boy and the cook. It was some merchant's ship till he found his way back to land, as a token of gratitude he gave the Raft to the stranger.
The Raft is completely free, has 20 max. cargo space, can go 6 knots, has no cannons and has 30 life.
It's in pretty terrible condition:
Ripped sails
Approx. 7 men tall
Termites
Boxes, Bags & Barrels to store food
A tent to sleep in
Hay for a bed
Ripped Undies for a flag
A useless message in a bottle
Jimmy Rigger
It costs 3000 doubloons, has 60 max. cargo space, has 1 cannon, can go 7 knots, and has 50 life. 
It's in poor condition:
Slightly ripped sails
Broken flagpole
(Blocked up) Holes in the sleeping quarters
Barrels & Bags of food
An unseen bed
Slightly Larger, more functional & more agile than the Raft
Carabelle
It costs 9000 doubloons, has 200 max cargo space, has 1 cannon, can go 8 knots, and has 70 life. 
It's in fair condition:
A crow's nest
Hygenic food conservation, sleeping quarters & bed material
Adequate steering
Can destroy sea monsters (wasting half of the life)
Seven knots
Sea Sultan
It costs 30,000 doubloons, has 600 max cargo space, has 2 cannons, can go 9 knots, and has 90 life.
It's in good condition:
2 flags
Windows
Much bigger than the last ships
Red decor with a Golden Harbour theme
The Koi
The Koi is named after a Japanese fish and costs 90,000 doubloons, has 1,800 max cargo space, has 3 cannons, can go 12 knots, and has 100 life.
It's in great condition:
Dragon Cove theme
Twice the height of the Sea Sultan
This type of ship is called a 'Junk ship'.
Steaming-Fury
It costs 300,000 doubloons, has 5,000 maximum cargo space, has 4 cannons, can go 12 knots, and has 40 life.
It's probably made of steel
Runs on steam
Much more modern design
Phoenix Warbird
Main article: Phoenix Warbird.
The Phoebix Warbird is the most powerful ship you can buy, and the one that is used to defeat
Captain Crawfish
in the end. It costs 1000 000 doubloons, goes 13 knots (15 with Navigator), and has five cannons.
Ad blocker interference detected!
Wikia is a free-to-use site that makes money from advertising. We have a modified experience for viewers using ad blockers

Wikia is not accessible if you've made further modifications. Remove the custom ad blocker rule(s) and the page will load as expected.