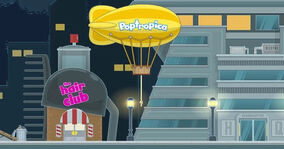 The Main Street on Spy Island appears to be evening upon your arrival, and is mostly made of dark, dull colors. The area houses three buildings: the Hair Club common room, The Spy Headquarters, and Spyglass Eyeware. Before you complete the island, you can sometimes see inhabitants on the street with a bald head, or if you are lucky, you can see the B.A.D. organization using the hair removal laser beam to remove their hair. After completion, the inhabitants have unusually large hairdos, not seen on any other island.
Ad blocker interference detected!
Wikia is a free-to-use site that makes money from advertising. We have a modified experience for viewers using ad blockers

Wikia is not accessible if you've made further modifications. Remove the custom ad blocker rule(s) and the page will load as expected.