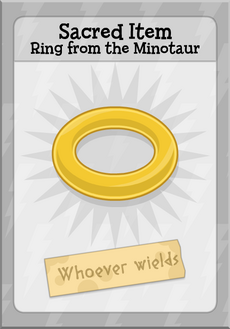 The
Minotaur's Ring
is one of the five sacred items you need to get on
Mythology Island
.
How To Get It
To get the ring you must conquer the Minotaur's Labyrinth. After you get to a certain point, there will be a pillar blocking your way. To get past it you must play a game with fifteen bones. Click on the bones such that they spell "TEN". Next you will find a portrait of the Minotaur with holes in it. Snakes will pop in and out of the holes. Catch the red-eyed snake three times to raise the gate. Escape the maze and the Minotaur will give up the ring in its nose.
Secret Message
The Secret Message it comes with is "Whoever wields".
Ad blocker interference detected!
Wikia is a free-to-use site that makes money from advertising. We have a modified experience for viewers using ad blockers

Wikia is not accessible if you've made further modifications. Remove the custom ad blocker rule(s) and the page will load as expected.