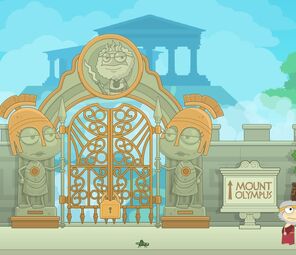 Mount Olympus is the mountain on which the gods and goddesses live. It is located on Mythology Island. It is also where the final battle takes place.
For much of the quest, the gate through which you are supposed to enter to get to the area of Mount Olympus is closed and locked with a large padlock. You are not able to enter Mount Olympus until you get Hercules to help you by breaking the lock. Once he does that, you will enter, climb up to the top of the mountain and fight Zeus.
Ad blocker interference detected!
Wikia is a free-to-use site that makes money from advertising. We have a modified experience for viewers using ad blockers

Wikia is not accessible if you've made further modifications. Remove the custom ad blocker rule(s) and the page will load as expected.