| | |
| --- | --- |
| | This article is in need of a better quality photo, so if you can, please help out and put a high quality photo on this page. |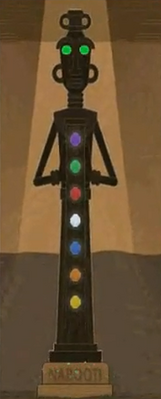 The 
Nabooti Jewels
are precious jewels from the
sacred totem pole
of
Nabooti Island
. Their colors are red, blue, purple, white, orange, yellow and green. The yellow and orange jewels are already found, though. They along with the totem came from
space
.
Locations:
Here are the locations for the jewels:
Purple: Inside a hidden cave in the Blue Nile Falls.
Red: Inside a cave at the top of the Mountains of the Moon.
Blue: Inside the Sphinx at Giza, in the mummy's tomb, the mummy is still holding onto it until you steal it.
White: Inside the Diamond Mines.
Green: In the possession of the forest spirits of the Kaya Forests.
Order:
The correct order of gems, (from up to down) is purple, green, red, white, blue, orange and yellow.
Purpose:
The gems are the power source for the Nabooti totem which have alien origins.
Gallery:
Trivia:
Each jewel has a small runic inscription in the center of it. This is used to identify the white jewel.
Ad blocker interference detected!
Wikia is a free-to-use site that makes money from advertising. We have a modified experience for viewers using ad blockers

Wikia is not accessible if you've made further modifications. Remove the custom ad blocker rule(s) and the page will load as expected.