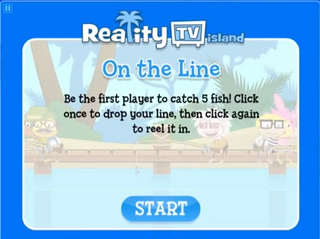 On The Line
is a minigame featured on
Reality TV Island
where contestants compete by sitting on a dock by some water. The objective is to be the first to reel in 5 fish. To release your line, simply click and wait for any fish to get hooked. This will automatically cause the line to reel back up. If the line misses, you will have to click again to reel it back.
See also
Ad blocker interference detected!
Wikia is a free-to-use site that makes money from advertising. We have a modified experience for viewers using ad blockers

Wikia is not accessible if you've made further modifications. Remove the custom ad blocker rule(s) and the page will load as expected.