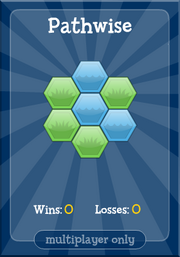 Pathwise is a multi-player game in Poptropica with a simple goal. You need to create a connected line of your tiles to connect your two sides before your opponent can do the same. It is a very strategic game that involved both offense and defense tactics. Each player takes turns selecting one tile on the board at a time. When you select a tile, it turns into your color (either green or blue). If you connect a continuous path across the board, you win.
Ad blocker interference detected!
Wikia is a free-to-use site that makes money from advertising. We have a modified experience for viewers using ad blockers

Wikia is not accessible if you've made further modifications. Remove the custom ad blocker rule(s) and the page will load as expected.