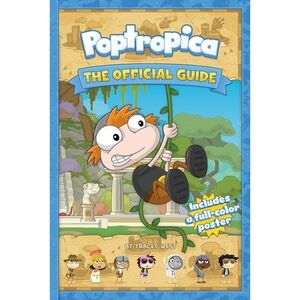 The Poptropica: The Official Guide is a paperback guide to Poptropica's first 18 Islands. The book was written by Tracey West and was released on October 13, 2011.
The book contains fully fledged walkthrough guides to each of the first eighteen islands (Early Poptropica to Wimpy Wonderland), as well as a section in the back with some behind the scenes information, and a pullout map of the islands that contain walkthroughs in the book.
Description
"
This full-color guidebook contains walkthroughs for most Poptropica Islands, behind-the-scenes looks at how an Island is made, and quotes from the Poptropica Creators.
"
—Poptropica Creators Blog
Mistakes
Ad blocker interference detected!
Wikia is a free-to-use site that makes money from advertising. We have a modified experience for viewers using ad blockers

Wikia is not accessible if you've made further modifications. Remove the custom ad blocker rule(s) and the page will load as expected.