Poptropica Adventures for Nintendo DS
Comments

10
711pages on
Poptropica Wiki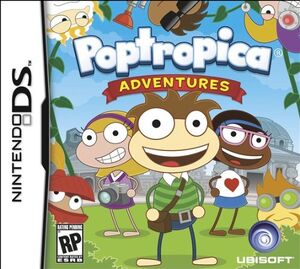 Poptropica Adventures is the first video game made by Poptropica, made for Ninetendo DS only. It is unknown if any other video games will be made after it, except a  Nintendo 3DS clone. There are also 2 promo codes that are completely random. The promo codes can be used to obtain the Medusa Surfer costume and the Lightning Knight costume.
Description
From Poptropica Tours
"
Poptropica, the most popular virtual world for kids is coming to the Nintendo DS! In Poptropica Adventures, the Poptropica museum is in ruins and needs your help! Explore three amazing Islands and find missing artifacts to help restore the museum to its former glory. Meet interesting characters, collect artifacts, solve puzzles, and play mini-games in the ultimate on-the-go Poptropica experience! Looking to stand out in a crowd? Customize the look of your avatar with new clothes, hats, hair styles, and more to show off your unique Poptropica style!
"

—The Game Tour On Poptropica
From Jeff Kinney
"
"We're excited to bring the world of Poptropica to the Nintendo DS. We've picked three of our most popular Islands and given them a twist with exciting new challenges and storylines. We think kids will have fun exploring our world in an experience only the Nintendo DS can deliver!"
"

—Jeff Kinney
Rating
E-
Everyone
Comic Mischief
Content rated by the ESRB ; E for everyone.
Walkthrough
When you turn on Poptropica Adventures, there will be the start button, once you start, there will be three buttons. "NEW GAME", "CONTINUE" (Only when saved progress) and "CREDITS". If you are new to this game, it's best to start with the new game button. When you start the game, a Poptropican appears, and you will be able to customize it, and click the "guess" button for a new name. When your ready, you will have 4 islands available to play and solve, Astro-Knights Island, Mythology Island, Super Power Island, and Museum Island, here are the guides to get you started on the walkthrough.
Museum Island issue
Objective for Museum Island.
The first island to land on, is Museum Island. When you reach Museum Island, there will be a curator, the owner of the Museum, he has a grey beard, light skinned, and has some green and red traditional clothes, he will say that he is happy to see you, but he has some terrible news, follow him into the museum, he will explain that the museum materials and everything on it is stolen, he will introduce you how to play the game, press the "Y" button near a Poptropican and you could customize them. He will then explain the basics of the game, he will show you some of the museum's costume places, to copy the costumes you've earned from islands. Once you completed the basic tasks, he will explain your objective to save each islands and Museum Island itself, you need to collect every piece of artifact from each islands and store it in the 3 museums, when you are done, you are ready to take off to each islands save the 4 islands.
Objective for Astro-Knights Island
Gallery
Videos
Trivia