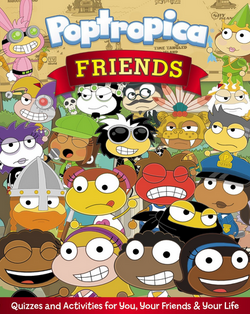 Poptropica Friends: Quizzes And Activities For You, Your Friends, And Your Life is a Poptropica book based off of the popular feature, Poptropica Friends. It was released on August 1, 2013.
Description
"
This little tome is jam-packed with 128 pages of quizzes and activities that are all about you, your friends, and your life. It's like the Poptropica website come to life!
"
—Poptropica Creator's blog
Ad blocker interference detected!
Wikia is a free-to-use site that makes money from advertising. We have a modified experience for viewers using ad blockers

Wikia is not accessible if you've made further modifications. Remove the custom ad blocker rule(s) and the page will load as expected.