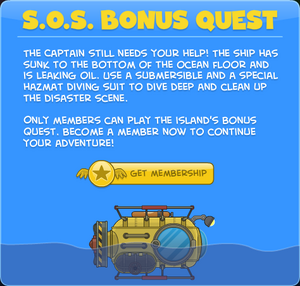 "
For the first time ever, Poptropica Members can play a bonus quest after completing S.O.S. Island. The ship may have sunk, but the adventure isn't over. It's up to you to descend to the ocean's darkest depths and stop a dangerous oil leak before it's too late!
"
—Poptropica
Trivia:
This was the first Island to have a Bonus Quest and Members Only items.
Ad blocker interference detected!
Wikia is a free-to-use site that makes money from advertising. We have a modified experience for viewers using ad blockers

Wikia is not accessible if you've made further modifications. Remove the custom ad blocker rule(s) and the page will load as expected.