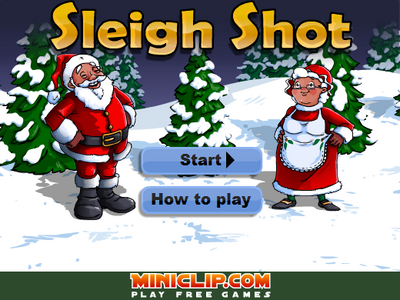 Sleigh Shot is a game from MiniClip that can be played in the Daily Pop. It's a simple game where you must launch Santa's Sleigh from a cannon into the air and try to make it go as far as possible. You'll earn cash for each launch you complete, and that cash can be used to buy special add-ons for the sleigh and cannon that will allow you to travel even further. You're in competition with Mrs. Claus and you must beat her top distance to advance to the next round.
External links
Ad blocker interference detected!
Wikia is a free-to-use site that makes money from advertising. We have a modified experience for viewers using ad blockers

Wikia is not accessible if you've made further modifications. Remove the custom ad blocker rule(s) and the page will load as expected.