The Soda Pop Shop is Early Poptropica's main common room, the other being the Arcade.
Description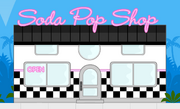 Exterior Design
The square building is topped with electric lettering, and below that strangely shaped windows and checkered siding. An "Open" sign can be seen on the left hand side of the building. Through the windows of the building, you can see animated silhouettes of a male and female Poptropican.
Interior Design

The inside is a considerable amount taller than the exterior portrays. Soda bottles and other drinks can be found sitting on various tables. A non-operational jukebox is in the bottom right corner. A mouse hole is in the upper left corner.
Ad blocker interference detected!
Wikia is a free-to-use site that makes money from advertising. We have a modified experience for viewers using ad blockers

Wikia is not accessible if you've made further modifications. Remove the custom ad blocker rule(s) and the page will load as expected.