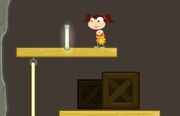 The Storage Cavern is a place on Early Poptropica Island found under early poptropica. You must go there in order to get the glow stick, which is needed in the dark room. At the bottom of the room there is a stream running across the floor carrying storage crates into a large pipe. There are many platforms above it, on one is a Poptropican wearing a swim suit who tells you to get the glow stick.
Ad blocker interference detected!
Wikia is a free-to-use site that makes money from advertising. We have a modified experience for viewers using ad blockers

Wikia is not accessible if you've made further modifications. Remove the custom ad blocker rule(s) and the page will load as expected.