The Styx Crocodile is a reptilian creature that lives in the River Styx.
Appearance
The Styx Crocodile is a reptilian creature with slimy yellow-green skin and yellow sharp teeth. It also has pale yellow eyes. It has dark green spines around its head and large nostrils.
The Styx Crocodile rises from the green waters of the River Styx every so often andtries to knock you off Charon's boat. It is one of the three recurring obstacles you must get past to reach Hades' throne room along with a falling stalactite and a levitating flaming skull.
Trivia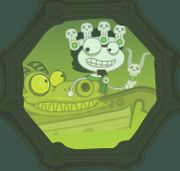 In Hades' throne room there is a picture of the Styx Crocodile laying affectionately next to Hades as he travels across the River Styx in Charon's ferry.
Ad blocker interference detected!
Wikia is a free-to-use site that makes money from advertising. We have a modified experience for viewers using ad blockers

Wikia is not accessible if you've made further modifications. Remove the custom ad blocker rule(s) and the page will load as expected.