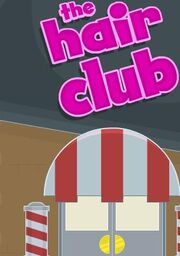 The Hair Club is the multi-player room on Spy Island. The inside looks like a barber shop with 3 levels. The outside has a big comb on it and usually the poptropican who is outside the Hair Club has his/her hair taken away by a lazer until you complete the island. The Poptropicans usually have big hairstyles being right next to The Hair Club but they are randomized so they may or may not.You can stand on top of the giant can of hairspray and spray hairspray.
Ad blocker interference detected!
Wikia is a free-to-use site that makes money from advertising. We have a modified experience for viewers using ad blockers

Wikia is not accessible if you've made further modifications. Remove the custom ad blocker rule(s) and the page will load as expected.