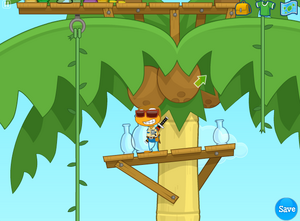 The Medicine Man is a location on Shark Tooth Island. The Medicine Man lives at the top of the location.
Using a large, grey block, jump onto the vine hanging off the tree to help you onto the ruin roof. Also, watch out for falling coconuts. Later, after gathering the correct ingredients for the Medicine Man, use the large block again to jump onto the vine and climb up to the top. Once the you get the calming potion from the Medicine Man, climb down again.
Ad blocker interference detected!
Wikia is a free-to-use site that makes money from advertising. We have a modified experience for viewers using ad blockers

Wikia is not accessible if you've made further modifications. Remove the custom ad blocker rule(s) and the page will load as expected.