Template:PopNewsHeader Guess what everyone? Poptropica is back at Applebees! I was enjoying dinner tonight when I noticed Poptropica's kids meal menu. It itself was interesting, but what was even more interesting was the secret code on it (the code does not change, but if you really want to know what it is, the code is applebees12). I typed it in on my Poptropica account, and I received the exclusive Applebee's Apple Power Glasses. Here's a picture of the special action you can do if you press spacebar.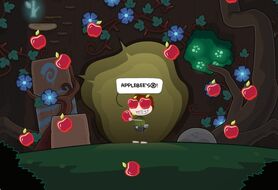 Ow! Now I know how Issac Newton felt.
Ad blocker interference detected!
Wikia is a free-to-use site that makes money from advertising. We have a modified experience for viewers using ad blockers

Wikia is not accessible if you've made further modifications. Remove the custom ad blocker rule(s) and the page will load as expected.