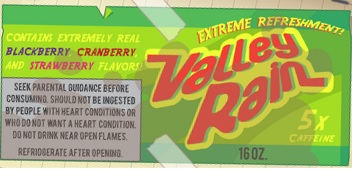 Valley Rain is a popular berry soda on Poptropica. Abe especially likes this product. The ingredients in the soda were able to keep Abe from becoming a Zomberry due to the fact that no blueberries were used in it.
You find the Valley Rain soda in Abe's apartment. You must later use the list of ingredients used in the soda to deduce the fruit that caused the Zomberry outbreak.
Ad blocker interference detected!
Wikia is a free-to-use site that makes money from advertising. We have a modified experience for viewers using ad blockers

Wikia is not accessible if you've made further modifications. Remove the custom ad blocker rule(s) and the page will load as expected.