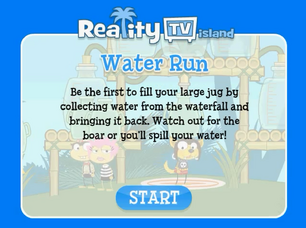 Water Run
is a minigame featured on
Reality TV Island
. The objective of this game is to fill a water jug. Avoiding the boar, which will knock you down and consequently cause you to lose water, you need to fill the jug to 100%. The first player that gets to 100% wins immunity and is safe from elimination for the night. There are platforms to jump on in order to avoid the boar.
See also
Ad blocker interference detected!
Wikia is a free-to-use site that makes money from advertising. We have a modified experience for viewers using ad blockers

Wikia is not accessible if you've made further modifications. Remove the custom ad blocker rule(s) and the page will load as expected.