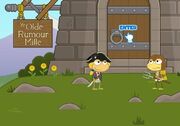 The Ye Olde Rumour Mille is a windmill that acts as a building on Astro-Knights Island where Poptropicans go to socialize and tell rumors, as the name suggests. You will find Mordred's Hideout near by it. On the very top is a second entrance which will open if you spin the windmill. To do so you must unblock the inner mechanism within the windmill. Also, to the right of the mill, there is a vast mud pit where Excalibur crashed.
Ad blocker interference detected!
Wikia is a free-to-use site that makes money from advertising. We have a modified experience for viewers using ad blockers

Wikia is not accessible if you've made further modifications. Remove the custom ad blocker rule(s) and the page will load as expected.